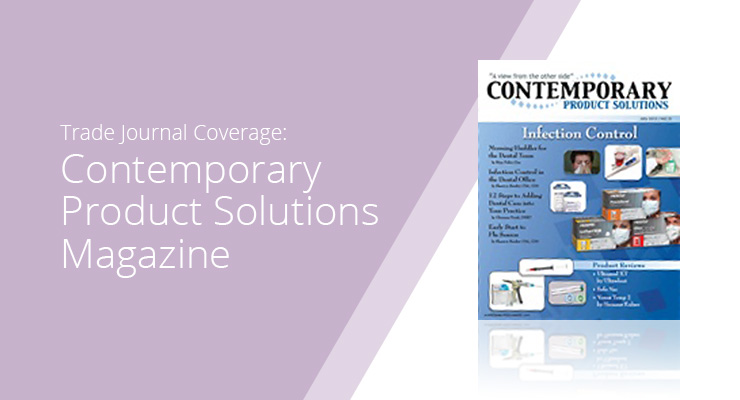 Contemporary Product Solutions Magazine
By Cheyanne Frank, DMRT
Looking to offer an exciting new way to do your job even more effectively and profitably while also providing your patients with care-focused pain relief? There are more than 80 million Americans suffering from symptoms that dentists and their teams can now treat. An innovative assessment and treatment system (TruDenta, Dental Resource Systems, Fort Lauderdale, FL DRSdoctor.com) is available that enables dental practices to offer patients an objective evaluation of muscle and force dysfunction, as well as pain management through physical rehabilitation of the musculoskeletal physiology. This patented system — comprised of comprehensive equipment, technology, software, and therapeutic protocols — offers predictable, reliable and long-lasting results through conservative care for patients suffering from chronic and migraine headaches and other symptoms of dentomandibular sensorimotor dysfunction. Dentomandibular sensorimotor dysfunction is a disorder of the head and neck, temporomandibular joints, jaw function, dental forces, and the neurology of these structures and functions from imbalanced or improper forces.
Among the system's many benefits is the dentist's ability to provide a visually engaging assessment of a patient's condition, while the dental team — particularly dental assistants in their roles as primary dentomandibular rehabilitation therapists (DMRTs) — can actively participate in delivering scientifically proven treatments for patients who are suffering from dentomandibular sensorimotor dysfunction. The Food and Drug Administration (FDA) has cleared all elements of the equipment and treatment methods. In addition, the system's assessment protocol is consistent with American Medical Association (AMA) guidelines. The patented devices can quickly and painlessly determine if patients are suffering from dental force related conditions amenable to treatment through a unique and consistent approach. you and your practice can literally show potential TruDenta patients the causes of their symptoms, thereby increasing patient education and case acceptance.
Another attractive aspect of the system is that the complete therapy program is available in one office, which makes it convenient to patients and dental staff alike. Best yet, dentists and their dental teams receive extensive and expert training in the proprietary system at the University of Nevada Las Vegas or NOVA Southeastern dental schools.
As someone who has undergone the training and helped implement it at our dental practice, I can attest to this type of dental care's exciting potential. This approach to providing a conservative pathway to care and pain relief has had a major positive impact on our practice and, most importantly, on the quality of life of many of our patients.
To those of you considering broadening your horizons and looking for ways to expand the level of care that your practice provides, this systematic assessment and therapeutic technology may be the answer. To help minimize the inevitable learning curve, I offer some tried-and-tested methods that have proved successful at our dental practice. Feel free to adapt them to meet your own practice's individual team needs and patient expectations.
USE WHAT YOU KNOW


The transition to incorporate assessments and treatments for dental force imbalances and dental headache care into your practice may be difficult initially, since as professionals, we strive to have full mastery of the expert knowledge involved in order to proceed with utmost confidence and expectations. However, the systematic approach allows you, your doctor, and your team to build your knowledge and expertise gradually. You move forward by building upon the knowledge you gain as you progress through the sequenced training process.

CONFIDENCE IS CONTAGIOUS


Individuals with temporomandibular joint disorder and dental force related headache issues will benefit from this treatment. I may not know yet what form the benefits will take, but I do know from both the training I received and my own personal treatment experience that they will occur. When a new patient presents, my initial statement is: "I can help you. I'm so glad you found us!" Chances are, hearing the enthusiasm and confidence in your voice will leave patients feeling more receptive to learning about and embracing the possibilities of this approach to care.

COMMIT TO EDUCATION


It can be challenging to educate patients about their condition and how conservative rehabilitation can help them so that their acceptance of treatment is ensured. An effective way to accomplish this is to invite them for a complimentary 20-minute consult with the doctor. This offers sufficient time for patients to express their needs and concerns while enabling the doctor to properly explain different components of the rehabilitation therapy. In our practice, we find that using the TruDenta Scan at this time helps improve patients' knowledge of their condition and acceptance of treatment.

MAKE IT PERSONAL TO FOSTER TRUST


As the primary DMRT, when new patients come in, I always introduce myself, whether or not I'll be in the room assisting during the consultation. I want to be a familiar face to them before discussing the therapy and financial options with them. If I have the opportunity, I will listen in on the conversation that the doctor has with this patient. Then, when I discuss the therapies, I can repeat what the patient has already heard. This not only reinforces the information, it also increases the patient's level of trust and confidence in me, our team, and our consistent, collaborative knowledge and ability to successfully treat their individual conditions.

ANTICIPATE AND IDENTIFY POSSIBLE OBJECTIONS AND TACKLE THEM HEAD-ON


Focus on what matters most to each particular patient. I ask patients if they have any questions, making sure to fully address any specific needs or concerns they share with me. Typically, this is the time they express the cost concern. If they have insurance, I contact the company right away to determine what benefits are provided before presenting the patient with the final total. Depending on the patient's treatment level status and estimated insurance payment, I also tell the patient about financing options our office provides. Some offices — perhaps yours could be one — may discuss credit card processing and payment plan options.

EMPHASIZE THE VALUE


The majority of patients suffering from the symptoms of dentomandibular sensorimotor dysfunction have been in pain for a long time. They have come to your dental practice as a last resort. They likely already have had the MRIs, CAT scans, EMT visits, and even jaw surgeries. If they had been successful in achieving long-lasting pain relief, they would not be seeking the services of your dental practice. For most, this is a quality of life issue. Emphasize that point with your undecided patients. After all, what price would someone who has been enduring chronic and severe functional, pain, and aesthetics issues caused by their condition not be willing to pay for freedom from suffering, and restored health and function? And how grateful — and loyal — will they be to you and your dental practice for working with them to develop a solution that makes this therapy possible?

SEAL THE DEAL AS QUICKLY AS POSSIBLE


The sooner patients begin experiencing the positive results, the more invested they will be in accepting and following the treatment plan. Once they commit to begin treatment, we immediately schedule their appointment. If my room is ready and I have the time, we get them started right away. If they schedule a later appointment, I send them home with information materials to prepare them for what to expect at the upcoming treatment.

INVOLVE AND INFORM THE PATIENT EVERY STEP OF THE WAY
Give the patient literature, the Web site address (TruDenta.com), and then have the primary therapist follow up by phone the next day to answer any questions. Additionally, I send a card, thanking them for trusting me with their care and letting them know how excited I am to be on this new pathway of care with them.

When patients come back for their first treatment, as part of the assessment process, I perform the mandibular range of motion (ROM) and trigger point evaluation. At some point during this process, our doctor comes in and reviews the findings while revisiting the results of the TruDenta Scan. Even if he is not involved in that day's therapies, he greets and reassures the patient. This helps build and strengthen the triangle of trust between the DMRT, doctor, and patient.

ALWAYS TAKE TIME TO LISTEN


Devote 10 minutes before every therapy to ask the patient how he or she is doing. My patients say this is what they most appreciate; being able to talk about their anxieties allows them to release whatever emotional stressors they may be experiencing. As it increases the patients' positive emotional and physical response, this valuable bonding time also enforces their trust in you, and the doctor.

MAINTAIN CONSISTENT COMMUNICATION


In our own practice, we have determined that the most effective way to overcome any patient issue is through consistent communication between the office team and the patient. We already know from established patient relationships those who struggle with the symptoms and effects of dentomandibular disorders. Revisiting this information each time such patients come to the dental office is a great way to introduce or reaffirm our assessment of their condition. If your office has a morning staff meeting, use this opportunity to identify these patients, and plan to have a conversation at each point of staff contact with them.

BRING EVERYONE ON BOARD


Work as a team to educate patients about this systematic approach to treating dental force imbalances and providing dental headache care, and how it can benefit them. Everyone can — and should — contribute. For instance, even if your practice's hygienists have not attended the training at NOVA or UNLV dental schools, encourage them to "use what they know". Give them a treatment, explain the "what" and the "why", and let the excitement from their own positive experience be the bridge between them and the patient. Show the hygienists testimonials and have them share them with individual patients, whenever and wherever time and interest allow. In this way, when the doctor comes in, patients will feel reassured that the message they are receiving is relevant and compatible to what the doctor will tell them. If further explanation is warranted, you as the primary therapist can utilize the patient's history forms and continue the conversation.

BUILD UPON SUCCESSFUL OUTCOMES TO REAP EVEN GREATER BENEFITS


This systematic and conservative approach to treating dental headaches and dental force imbalances has created exciting new possibilities for our practice and everyone in it. The ability to create a staff-driven profit center provides great opportunities for the team to grow and express ourselves. It also provides an avenue for enhancing our practice's reputation among patients and other healthcare professionals.
You and your dental team can experience similar benefits and success. As a DMRT, you are an essential component of the assessment and rehabilitation process at your dental practice. By using your knowledge and confidence, you can significantly contribute to the health and well being of your patients, as well as the financial health and well being of your dental practice and its team. It truly is a win-win-win scenario.