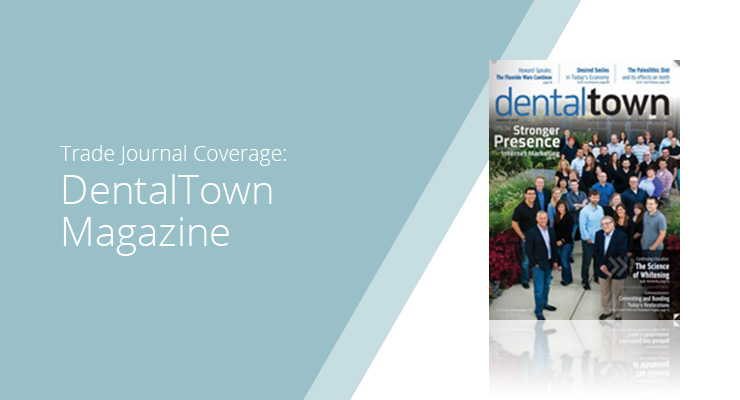 DentalTown Magazine
By Shane Sykes, DMD
Drilling and Filling
Within the past 10 years, increasing public awareness of the benefits of oral health and what today's dentistry can achieve has raised the profile of the profession from one of "drilling and filling" to one of "care and comprehensiveness."1 A more well-read and astute dental patient population recognizes that maintaining their oral health equates to better overall health. Concurrently, these individuals seek the advantageous and most often elective (i.e., pay out of pocket) dental treatments that enhance their lifestyle and self-esteem, such as whitening and veneers.2
Thankfully, a wave of technological advancements has expanded dentists' capabilities and enhanced the level of care we provide, making it easier to deliver predictable treatment outcomes and a higher level of service. From in office CAD/CAM systems for same-day restorations to softtissue lasers for gingival sculpting, and from caries and oral cancer screening devices to digital radiography, 21st century technologies are – when used properly – proving worth the investment.
Of course, all of these technologies ushered a paradigm shift and altered the way dentists do their work, see their role and care for patients. Treatments can be faster and more durable, and now the primary dentist and his or her team can handle cases that have previously been referred out. And, in the wake of greater attention to the link between facial attractiveness and smile aesthetics, some dentists have expanded their services to provide injectables (e.g., Botox, fillers) to patients who want a one-stop makeover experience.3
Yet dentists still encounter patients driven to the practice because they are in pain, have broken a tooth or previously placed restoration, or notice their gums bleeding.1 In some cases, the patient's pain could be isolated to his teeth and/or result from the damaged restoration; in other cases, pain symptoms could involve his face, jaw, ears, head and neck muscles. In either instance, appropriately treating the patient requires a full understanding of his condition and its causes in order to relieve the pain, prevent it long term and provide durable restorations.4
Until recently, dentists have been unable to address the heart of the problem and, as a result, additional restorative treatment is often needed due to abnormal, poorly distributed and/or dysfunctional forces that negatively impact the teeth.5-7 These same unmanaged and unbalanced muscle forces often contribute to severe, chronic pain and headaches, myofascial pain, tinnitus, TMJ disorders, clenching with or without torus formation, bruxism, tooth wear, abfractions, tooth fracture/damage, and restricted range of motion and postural adaptations, among others. These symptoms can be collectively described by the term dentomandibular sensorimotor dysfunction.5,7
Clinically managing these conditions is predicated on controlling pain and inflammation, rehabilitating the system to normal function and range of motion, and stabilizing the stomatognathic system with orthopedics, orthodontics, and, if necessary, dental restorations (Fig. 1). The missing link, however, has been the absence of equipment and methods to objectively diagnose these forces or systematically treat and monitor patients with symptoms of muscle and force dysfunction.
A New Assessment and Therapeutic Technology
An innovative assessment and treatment technology is now available for dental practices that enable an objective assessment of muscle and force dysfunction, as well as pain management through physical rehabilitation of the musculoskeletal physiology (TruDenta, Dental Resource Systems, Ft. Lauderdale, Florida). The TruDenta system is a unique and complete combination of equipment, technology, software and therapeutic protocols that have been well developed and tested to provide predictable results through straightforward, conservative care (Fig. 2).
The TruDenta examination of forces placed on the masticatory system is key to determining the extent of sensorimotor dysfunction. Abnormal, excessive or imbalanced forces indicate dysfunction and injury and are identified objectively using mandibular range of motion disability, cervical range of motion disability (digitally) and digital force analysis technologies. These elements are coupled with panoramic radiographs. The examination also incorporates a comprehensive head health history, medical history, headache history and pharmacological assessment. Additionally, thorough dental, periodontal, airway, orthodontic and occlusal examinations are performed.
Once the patient has been assessed, a treatment plan specific to his or her condition and extent of disability can be initiated. The treatment technologies in the TruDenta system are all FDA-cleared devices and modalities that have been used in sports medicine rehabilitation for over a decade. However, it is the specific frequency, sequence, duration and modulation of these therapeutic technologies (i.e., therapeutic ultrasound, transcutaneous electrical stimulation, lowlevel laser therapy, and intra-oral orthotics) that targets the underlying functional physiology.
Long-lasting results of TruDenta therapy depend upon harmonizing the rehabilitated musculoskeletal components with force-balanced teeth. This is only accomplished after TruDenta rehabilitation is underway and involves stabilizing the proprioceptive neurology through proper dental treatment in order to provide a platform of normal function for the patient. Then, regardless of the occlusal philosophy followed, if restorations are ultimately needed, patients can proceed with dental treatment that will be predictable and can be accomplished at a comfortable pace, without the urgency of pain.
Capitalizing on Better Patient Care
When dentists consider investing in new technology, we ask ourselves several questions. Is the technology sound and proven? Will the technology enable us to provide better and/or new care and treatments to our patients? Can and will the technology be incorporated into the office? Will we see a return on our investment? If we cannot answer "yes" to all of these questions, then we likely won't consider it further.
Fortunately, the technology and methods in the TruDenta system for assessing and treating patients with dentomandibular sensorimotor dysfunction have been proven successful for years. They have specifically demonstrated effectiveness in speeding and enhancing athletes' recovery from musculoskeletal and force-related injuries.9 By combining neuroscience and systematic and objective diagnosis/monitoring, technologies such as low level laser therapy, therapeutic ultrasound and micro-current nerve stimulation can now be applied in dentistry.10-13
Further, the treatment protocols can be equally directed to pain/headache/migraine or to degenerative sensorimotor dysfunction that destroys teeth and restorations. The impetus to treat more than joint/jaw position and dental conditions in isolation is based on the need for predictability and conservative care, as well as knowledge that direct care of the musculature (in combination with known systems of jaw position and dental occlusion), can reduce pain, speed recovery times, increase stability and reduce the need for pharmaceuticals and radical dental procedures. The therapeutic procedures and patient care allow dentists to bring the majority of all conservative musculoskeletal care in house, after which assessing the need for complex dentistry can be done in a system of balance and stability that is better for patients' long term.
Although the assessment of dentomandibular sensorimotor dysfunction and minor occlusal adjustments are completed by the dentist, the majority of the treatment is completed by trained staff members. The TruDenta system includes continuing education for the doctor and all staff members in conjunction with either the University of Nevada Las Vegas or NOVA Southeastern University dental schools. As a result, it is an approach to objective, systematic assessment and treatment that can be embraced by the entire dental team.
Finally, nothing breeds success like success. The TruDenta approach, when followed properly, has proven to be 93 percent successful in relieving pain symptoms for properly assessed chronic headache and migraine patients. It's estimated that at least 50 percent of a practice's existing patients can benefit from TruDenta therapy. Additionally, the digital assessment technologies that produce data to AMA guidelines accelerate physician referrals of new patients. Providing successful treatment for dentomandibular systems further qualifies dentists to receive referrals from other dental professionals, and the larger health-care community.
The patented TruDenta devices quickly and painlessly determine if patients are suffering from dental force-related conditions that can be treated systematically in the dental office. Patients can literally be shown the potential causes of their symptoms, which help to foster patient education and increase case acceptance rates. Most dentists already using the TruDenta system indicate that most TruDenta treatment plans range from $3,500 to $5,000 per patient.
Investing in innovative and proven technologies is of utmost importance for dentists committed to providing their patients with the most comprehensive and highest level of care. When investing in and adopting a new technology and treatment method, many questions need to be answered. With the TruDenta system, dentists can use a systematic approach to assessing and treating muscle and force dysfunction and simultaneously provide patients with an opportunity to address their symptoms and problems in a way that assures a pathway to longterm predictable health and dental stability.
About the Author
Dr. Shane Sykes received his dentistry degree from the University of Kentucky College of Dentistry and maintains a private practice in Reno, Nevada. A member of the American Academy of Dental Sleep Medicine, the Academy of Biomimetic Dentistry and the Omicron Kappa Upsilon Dental Honor Society – an honor given to only 10 percent of dentists nationwide – he researches and lectures nationally on cosmetic dentistry and self-esteem. He can be reached at 775-322-5016 or by e-mail: sykes@therenodentist.com.
References
Bobrow D. Are you ready for the next wave in dentistry? The history of the public's perception of dentistry may be viewed as consisting of three waves. 2011.
http://www.dentalproductsreport.com/dental/ article/are-you-ready-next-wave-dentistry
American Academy of Cosmetic Dentistry. Cosmetic Dentistry Continues to Surge – Market Estimated at $2.75 Billion. December 13, 2007.
http://aacd.com/index.php?module=cms&page=723
Bouck L. Injection question. Should general dentists administer BOTOX? AGD Impact. December 2008.
http://www.agd.org/publications/articles/?ArtID=4468
Bakeman EM, Kois JC. Maximizing esthetics, minimizing risk: the line of predictable success. Inside Dentistry. 2005; 1 (1): 16-23.
Junge D. Oral Sensorimotor Function. Medico Dental Media International, Inc.: 1998.
Okeson JP. Management of Temporomandibular Disorders and Occlusion, 6th Edition. Mosby: 2008.
Sessle BJ. Mechanisms of oral somatosensory and motor functions and their clinical correlates. J Oral Rehabilitation. 2006; 33:243-261.
Cameron MH. Physical Agents in Rehabilitation, 3rd Edition. Saunders: 2009.
Öz S, Gökçen-Röhlig B, Saruhanoglu A, Tuncer EB. Management of myofascial pain: low-level laser therapy versus occlusal splints. J Craniofac Surg. 2010 Nov; 21 (6): 1722-8.
Marini I, Gatto MR, Bonetti GA. Effects of superpulsed low-level laser therapy on temporomandibular joint pain. Clin J Pain. 2010 Sep; 26(7): 611-6.
Srbely JZ, Dickey JP. Randomized controlled study of the antinociceptive effect of ultrasound on trigger point sensitivity: novel applications in myofascial therapy? Clin Rehabil. 2007 May; 21(5): 411-7.
Aguilera FJ, Martin DP, Masanet RA, Botella AC, Soler LB, Morell FB. Immediate effect of ultrasound and ischemic compression techniques for the treatment of trapezius latent myofascial trigger points in healthy subjects: a randomized controlled study. J Manipulative Physiolo Ther. 2009 Sep; 32(7): 515-20.
Zuim PRJ, Garcia AR, Turcio KHL, Hamata MM. Evaluation of microcurrent electrical nerve stimulation (MENS) effectiveness on muscle pain in temporomandibular disorders patients. J Appl Oral Sci. 2006; 14(1): 61-6.