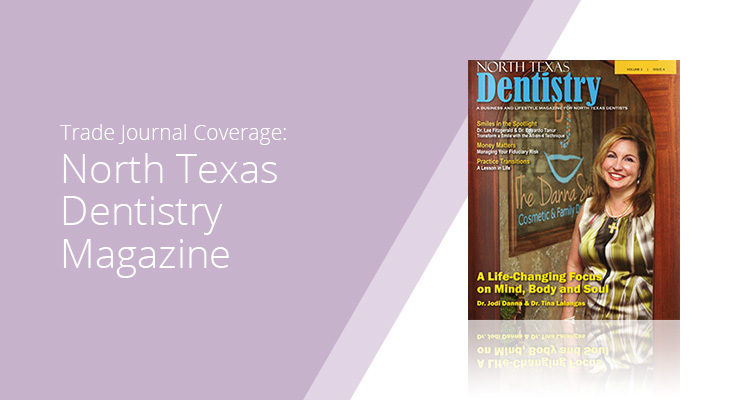 North Texas Dentistry Magazine
By Anthony Stefanou, DMD
Dr. Peter R. Barnett of Star Ranch Dental
The National Institute of Dental and Craniofacial Research (NIDCR) estimates that more than 10 million Americans suffer from TMJ disorders, but a recent report from the National Institutes of Health (NIH) suggests more staggering numbers: between 15 and 45 million patients have some form of TMJ issues. Additionally, according to the National Headache Foundation, more than 45 million Americans suffer from chronic recurring headaches and, of these, 28 million suffer from migraines. Alarmingly, 20% of children and adolescents suffer from headaches as well. It is estimated that up to 80% or more of headaches are caused by dental force related problems.
While practitioners from many different health care disciplines offer various treatments for patients suffering from chronic headaches/migraines, sleep apnea, and TMJ/D, consumers are quickly starting to recognize that the first and best place for them to go for treatment is the dental office! With all the current research surrounding the oral-systemic link, dentists are now incorporating new programs, systems, and technologies designed to diagnose and treat these conditions and are experiencing excellent results. As a result, an interesting "shift" is occurring in the health care industry.
Dr. Peter Barnett of Star Ranch Dental in Plano, Texas, is among the dental professional shifting to a more comprehensive approach to patient care. Dr. Barnett, who has been treating TMJ/D and occlusion issues for 30 years, acknowledges that new research findings led him and his practice to adjust how they approach such core services as periodontal health and bacterial testing, laser therapy for bacterial reduction and therapy, antioxidant therapy, oral cancer screening, TMD and sleep treatment. "Our understanding of the role of muscle and nerve hyperactivity is mightily different. We used to think stress "caused" this problem and that biofeedback was an answer; now we understand it exacerbates but doesn't cause the problem," Dr. Barnett says. "We understand the role of occlusion and bite forces much differently as more than just a restorative position. We now know it's more of a muscle/bite force/balance joint support issue, as well as understand sleep (perhaps one of the biggest issues) and its role in exacerbating TMD for some and, of course, its effect on overall health."
Dr. Barnett's progressive general and cosmetic practice reflects a dental office environment unlike other offices. When a patient walks in, it doesn't feel, look, or smell like a dental office. This environment immediately changes a patient's mindset to expect a different type of experience; they're more relaxed than they would be in other dental offices. "We are very health oriented and incorporate leading edge technology throughout the practice," Dr. Barnett explains. "We integrate esthetics into all that we do as part of our health philosophy because function is a vital part of health."
Dr. Barnett began implementing the TruDenta system in 2010 to help his patients suffering from chronic headaches, migraines, and TMJ/D. TruDenta provides technology and advanced training in conjunction with major dental schools to quickly diagnose and painlessly resolve patient's dental force related symptoms. One of the unique aspects of TruDenta is its objective, digital diagnostic technologies that produce data to AMA guidelines. This element is key to accelerating physician referrals of new patients. The patented devices can quickly and painlessly determine if patients are suffering from dental force related conditions, which can be treated with the TruDenta approach. Patients can literally be shown the potential causes of their symptoms, thus increasing patient education and case acceptance rates.
"TruDenta offered a complete system of equipment, training, and operations that put it into a perspective that immediately made sense to me," explains Dr. Barnett. "Although there are many patient benefits to the TruDenta system, the primary benefit is that it does not involve any drugs or needles. TruDenta is a non-invasive approach in comparison to what else is out there: drugs and surgery. However, it should be noted that because the body is getting rid of these painful stimuli and toxins, there can be a little discomfort in the early stages."
Dr. Barnett elaborates that the TruDenta system addresses the causes of the pain, not just symptoms, by retraining muscles, nerves, and the occlusal disharmonies. An orthotic alone does not address retraining muscles, but only the cause of the grinding/clenching that causes pain. Smile make-overs/rehabilitations, which are expensive, are sometimes done on these patients and may not address the underlying causes of the problems. "Finally, TruDenta is a complete comprehensive therapy program in one office, which makes it convenient to patients and that is greatly appreciated," Dr. Barnett adds. "Addressing these underlying causes increases a patient's function, productivity, and quality of life."
Dr. Barnett explains that during the first appointment, the most critical part of the process begins with the patient history in the initial examination. It is imperative that the dentist listen to the patient's verbal report of what the problem is, how long it has been a problem, where the problem is, what might have triggered it, etc. He says that many times patients have been dealing with this situation for quite a while and are well informed due to visits to many different types of health care providers. Other times, they have no understanding, and education is an integral component of the initial evaluation and consultation.
Joint function, jaw movement, opening capacity, trigger points, and occlusion are evaluated and measured. Trigger points are manually palpated; the occlusal assessment can best be accomplished with a T-Scan; range of motion, opening, and jaw movement can be measured as a deficiency from average. Finally, a Panorex radiograph conveys valuable information about the joint and mandible condition.
Patients are diagnosed according to four classification levels. Level 4 is the most complex categorization. These patients have been in pain for quite some time, may have tried other modalities or seen other health professionals (like neurologists) who have not been able to address this issue long term; and may have migraines that are triggered by their TMJ/D pain. In most cases, Level 4 patients have been dealing with these issues for years or, in some cases, their entire adult life, with multiple headaches and pain episodes each week.
Level 3 patients have significant headaches, although maybe not migraines; limited range of motion; perhaps a displaced disk without reduction; and have been dealing with these issues for months. They may have multiple pain episodes or headaches each week, but not necessarily migraines. "The primary differences between Level 3 and 4 for me are the severity of the problem and the length of time the individual has dealt with their issues," Dr. Barnett says.
Level 2 patients experience some pain episodes and headaches that have begun recently, have some pain or discomfort, and have some occlusal discrepancies contributing to muscle imbalance. When an individual is evaluated and judged "not likely to be helped with an orthotic alone," a Level 2 diagnosis and therapy can help reestablish the proper muscle and joint balance. This involves occlusal equilibration as a small but integral part of their therapy sessions, but they do not require the home care therapy that the more severe Level 3 and 4 therapies include.
Level 1 patients have mild symptoms of grinding and clenching but also some muscle pain and/or occlusal discrepancy that requires some equilibration and an orthotic. These patients may have muscle tightness or soreness but are not likely to have headaches.
Once diagnosed, patients receive a series of treatment therapies using a proprietary combination of low level laser therapy, therapeutic ultrasound, and microcurrent. Each of these modalities was originally developed by MDs in sports medicine to speed the healing of joints and force related traumas. While the TMJ is the most complex joint in the body, it responds to therapies in a similar fashion to ankles, knees, shoulders, and other joints typically treated in sports medicine. Treatments are usually performed by staff members trained by TruDenta doctors at either the University of Nevada Las Vegas or NOVA Southeastern dental schools. TruDenta combines these with advanced dentistry to provide patients with predictable and long lasting outcomes.
Dentists reading this may wonder where they will "find" patients that would benefit from the TruDenta technology. Statistically, 20% of any general dental practice's current patients are suffering. For Dr. Barnett, patients come from other sources as well. "In addition, we receive patients referred by area medical doctors (i.e., ENTs, neurologists, family practice) and some from other general dentists and orthodontists (including pediatric dentists)," Dr. Barnett says. "We see a major opportunity with a referral program in place."
To illustrate his point, Dr. Barnett offers some details of two patient cases he has been treating in his practice using TruDenta. Patient #1: This patient had one episode about 15 years ago when her jaw locked. She eventually worked it open. Then, about two weeks before meeting Dr. Barnett and his staff, her jaw locked and she couldn't open it. A Level 2 treatment with an anterior DE orthotic was initiated and, over 8 weeks and 5 sessions of ultrasound, microcurrent, cold laser therapy, and other treatments, Dr. Barnett's practice increased her range of motion to within normal limits. TruDenta technology was used to balance her occlusion to reduce the type of muscle contraction that could create disk loss from the joint.
Patient #2: This patient arrived to Dr. Barnett's practice with severe pain in his joints, head, and neck that persisted for years. He was missing lower left teeth, so posterior support was severely compromised. His long-term prognosis was discussed, along with the need to replace the missing teeth with implants. Over 16 weeks and 13 sessions of ultrasound, microcurrent, and cold laser therapy, Dr. Barnett's team increased his range of motion to within normal limits and balanced his occlusion as best as possible given the missing teeth. The patient's pain levels were reduced by nearly 95% based on his activity diary, and his follow-ups have consistently shown no recurrence of symptoms.
Obviously, technology like TruDenta requires a financial commitment by the dentist, and since running a practice is a business, it is important to note the potential long-term "return on investment" (ROI) when considering implementing a system like this. Dr. Barnett offers a very modest and grounded example of what to expect. "If an office has merely one new therapy patient per month that was severe, Level 3 or 4, their payback should be within the two year range," Dr. Barnett predicts, adding that there are offices that can see 2 to 4 patients or more per month, which greatly reduces the payback time frame.
Most dentists who have implemented the TruDenta system report an average treatment plan of $3500-$5000 per patient. As far as dental insurance, Dr. Barnett does admit that he is in a network dental PPO practice, so some patients seen for consults seek his practice because of that, and their expectations about costs are influenced by insurance. "Since this is a medical condition/problem, with a dental solution, dentists have to address the medical billing/insurance issue with patients up front, and that can affect acceptance rates," Dr. Barnett says. As with any "specialized program" that general dentists consider incorporating into their practices, in addition to the solid clinical and hands-on training TruDenta provides, a strong background in the science behind what they will be doing is necessary and important. Dr. Barnett emphasizes, "It is crucial to learn as much as possible about occlusion, pain, sleep, and TMJ/D initially. While TruDenta offers a systematic approach, they also provide education on the fundamental underpinnings of what we are doing to be the most help to people."
Even with the general and financial benefits of a system like TruDenta, it also offers a way to differentiate and build dental practices, and a profit center. Another key benefit that should not be underestimated is how gratifying providing this service is. Whereas some programs are simply not embraced by everyone in an office because they are too complicated to learn and, therefore, never get off the ground, patients will see the office team is enthusiastic about what TruDenta can do for them. It is, therefore, important to have the entire team participate in the training process.
"TruDenta has made a big difference to all of our team. We have a much more comprehensive approach and, more importantly, an approach to treatment that they (the team) can understand," Dr. Barnett points out. "Therefore, they can participate more than they ever could before."
The bottom line is this: to be able to see patients finally getting relief from conditions they have had for many years and then actually offer a 'thank you' is priceless. Every dental practitioner would take more of that!
Star Ranch Dental is located at 5944 W. Parker Road, Suite 500, Plano, Texas 75093. For more information call (972) 943-5944 or visit starranchdental.com.