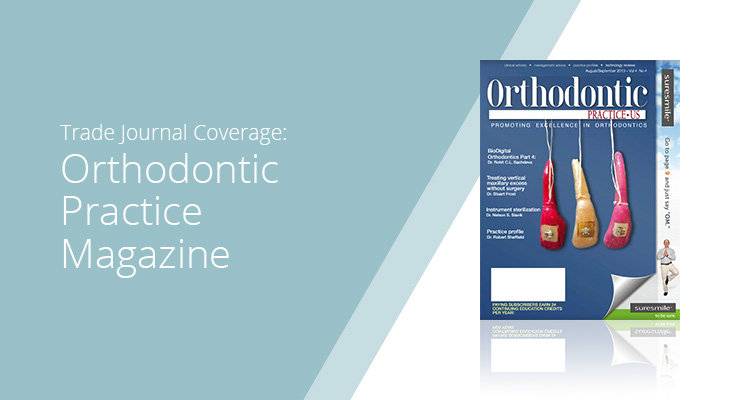 Orthodontic Practice US Magazine
By Dr. Sheila Birth
Dr. Sheila Birth uses a systematic therapy approach for life-changing care
Orthodontists are, by profession, specialists. We have chosen to narrow our scope of care to those patients requiring additional treatment to perfect their smiles. However, as I quickly learned, practicing a specialty does not limit our ability to provide life-changing care. Rather, broadening the application of relevant treatment technologies that can be used in orthodontic practice can prove beneficial not only to patients, but to practitioners as well.
I am an orthodontist with multiple practices in Texas. Orthodontics is my passion, not just my profession. The greatest reward is transforming the smiles of any child or adult who selects my practice. I know I'm not just improving their smiles, but their self esteem, also.
My practice began in one location in Fort Worth, Texas, but demand subsequently led to expansion to four other locations in Arlington, Burleson, and Keller, Texas. After practicing orthodontics for more than 25 years, I longed to do more for my patients, despite the fact that our practices were thriving and our staff well-trained and extremely efficient. In particular, addressing the needs of patients suffering from temporomandibular joint disorder (TMJ/D) and associated headaches was of interest, but we were unsure and uncomfortable with how to proceed given the level of difficulty these cases often present.
What I felt was needed was an established and integrated technology system with proven results before I would feel ready to begin treating patients with TMJ/D. It wasn't until 2012, while attending an orthodontics conference, that I discovered the TruDenta system (www.drsdoctor.com). Incorporating this technology-based, systematic approach to assessing and treating dentomandibular sensorimotor dysfunction proved to be the answer we were seeking.
What is TruDenta, and How Does it Work?
TruDenta (TruDenta, Dental Resource Systems, Inc.) is a comprehensive system of education, technology, and training. The assessment technologies include devices to digitally measure cervical range of motion and dynamic as well as static bite forces. The therapeutic technologies (e.g., ultrasound, microcurrent stimulation, low level laser) are designed to resolve dentomandibular sensorimotor dysfunction (DMSMD). This can be a very painful disorder that encompasses the head, neck, temporomandibular joint (TMJ), jaw, and dental forces. Caused by misalignment in the skull and mandible, it can result in problems with bite force, muscles, and joint balance.1,2
Many patients who suffer from these issues display myriad symptoms, including jaw clenching, TMJ/D, clicking and popping of the jaw, tooth damage or fracture, and bruxism. Other symptoms indirectly related to DMSMD include chronic headaches, migraines, tinnitus, vertigo, and sleep disorders.1-3
Sufferers of DMSMD may experience other challenges, particularly in the case of orthodontics. Force distortion can adversely affect the stability and reliability of dental restorations or appliances that patients are using to treat unrelated conditions. Such a distortion could require additional treatment to achieve and retain function and balance.1,2
According to the National Institute of Dental and Craniofacial Research, anywhere from 10 to 45 million individuals may suffer from TMJ/D and similar problems.4 Perhaps more alarming is that nearly 90% of the United States population has headaches, and more than 29 million Americans suffer from migraines.5
The TruDenta system can offer relief to many of these patients. The system's therapeutic modalities are cleared by the Food and Drug Administration (FDA) and represent a highly conservative but effective solution to managing and treating the causes of DMSMD pain and discomfort.TruDenta enables a customizable treatment plan for each individual to restore motion and function, stabilize the mouth, head, and jaw, and, perhaps most importantly for the patient, treat inflammation and pain.6
Training & Integration
Once I learned about the TruDenta system and how we could use it to care for our patients, I knew that I had to implement the systematic, technology-based assessment and treatment approach into our practice.
Many of our patients were suffering from TMJ/D and associated pain, especially headaches. However, because we weren't confident treating their pain, more often than not, I had been referring them to physicians. Unfortunately, treatments were usually difficult, painful, and expensive. I wanted to offer a cost-effective, efficient headache and pain treatment alternative that requires no drugs or needles within my own practices.
A company executive worked with us to explain the benefits of the TruDenta system, visited the practice to discuss integrating the system, and spoke with staff members about their questions and concerns. The transition would require a leap of faith, but I was determined to move forward and remove any staff doubts about incorporating this technology and type of care. I was committed to helping them understand it first-hand.
The first TruDenta system was purchased for the Keller practice in October of 2012. Although we were anxious to fully integrate it into the practice, we allowed ourselves ample time to learn the intricacies of the system and participate in the 3-day hands-on training. By March of 2013, everyone felt comfortable with the assessment and therapies, as well as recommending the treatment to patients experiencing painful symptoms. Based on the success and patient response in the Keller practice, I purchased another system for the Burleson office within a month. I'm now considering purchasing a third system to add to one of the other offices, since so many patients have experienced positive results.
Success Realized
Once my team and I began treating patients with TruDenta, that's when we realized the magnitude of what we are doing in terms of patient care, especially for those who had resigned themselves to lives of chronic, unending pain. Our first patient was a young woman who suffered with severe facial and TMJ pain. Within the course of five treatments, her pain had disappeared. Another patient was a young girl who suffered from weekly migraines who required a melatonin prescription to help her sleep. She is still completing treatment, but her migraine frequency has been significantly reduced, and she no longer requires melatonin.
One of our greatest success stories is the mother-in-law of one of my dental assistants. A lifelong migraine sufferer, the patient tried every treatment available for over 25 years, but to no avail. She estimated having spent more than $45,000 in treatments searching for relief. It wasn't until she underwent the TruDenta therapies that she finally experienced pain relief. She is now nearing the end of her course of treatment, and her headaches have become much shorter and more tolerable.
Discussion
Although my staff and I began treating only our orthodontic patients, word of our TruDenta treatment success spread, and soon we began treating family members of current patients, as well as new patients who had heard of this effective headache pain therapy and wanted to experience it for themselves. We now treat orthodontic patients, those suffering from DMSMD, and those who need care for both. In fact, we have begun a marketing campaign for headache sufferers, hoping to raise awareness of the type of dental headache pain relief that people can receive from orthodontic practices like ours.
Financially, incorporating this systematic, technology-driven approach to the assessment and treatment of dental force imbalance related pain has proven to be a worthwhile investment for me. It has helped me attract new patients and offer pain relief to current orthodontic patients, also, For example, my orthodontic patients have the option of incorporating a pain management component into their orthodontic treatment.7
For those unsure whether incorporating this type of treatment is right for them, I wholeheartedly recommend exploring it further, and for one simple reason: it works!
Add TruDenta to your Orthodontic Practice and give patients another reason to smile. For more information, call 855-770-4002 or visit drsdoctor.com/ortho.
About the Author
Sheila Birth, DDS, MS, received her DDS degree from Baylor College of Dentistry and her Master's Degree in Orthodontics from the University of Oklahoma. Recognized as a Top Doctor in Fort Worth Magazine and a Top Orthodontist in Texas Monthly, Dr. Birth is also an Invisalign® Premier Elite Provider, People-to-People Ambassador, and Fort Worth Star Telegram Reader's Choice Award Top Orthodontist. A member of several professional associations, including the American Board of Orthodontics, American Association of Orthodontists, and the American Dental Association, she actively participates in ongoing continuing education to remain abreast of the latest advances for successful, efficient, and effective orthodontic treatments.
References
Junge D. Oral sensorimotor function. Medico Dental Media International, Inc. 1998.
Sessle BJ. Mechanisms of oral somatosensory and motor functions and their clinical correlates. J Oral Rehabil. 2006;33(4):243-261.
Okeson JP. Management of Temporomandibular Disorders and Occlusion. 6th ed. St. Louis, MO: Mosby; 2008.
National Institute of Dental and Craniofacial Research. Adults. National Institute of Dental and Craniofacial Research. AccessedDecember 7, 2012.
https://www.nidcr.nih.gov/research/data-statistics/adults
US News and World Report. Headache. 2006. Accessed July 10, 2013.
https://health.usnews.com/conditions/pain-management/headache
American Dental Association. Dentists: doctors of oral health. Accessed July 10, 2013.
https://www.ada.org/en/about-the-ada/dentists-doctors-of-oral-health
Kerstein RB. Reducing chronic masseter and temporalis muscular hyperactivity with computerguided occlusal adjustments. Compend Contin Educ Dent. 2010;31:530-538.