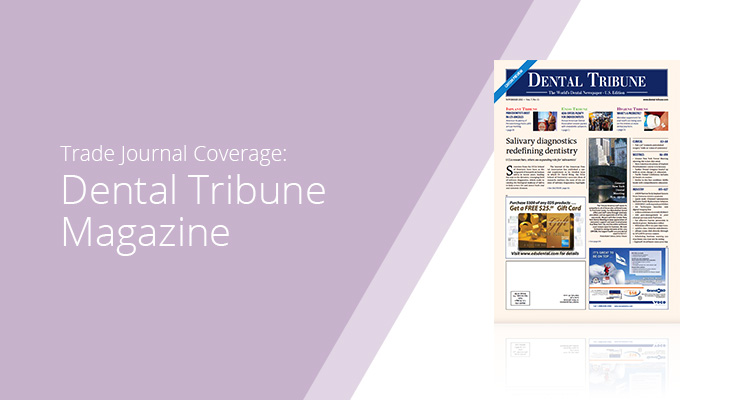 Dental Tribune Magazine
By Robert L. Harrell, DDS
Stay ahead of the curve with TruDenta
There is an overwhelming need to treat patients suffering with chronic headaches and other symptoms affecting the head and neck areas. According to the National Institutes of Health, between 15 and 45 million Americans exhibit some form of TMJ/D issues.1 Statistics from the National Headache Foundation indicate that more than 45 million Americans endure recur- ring headaches, and within this group, 28 million suffer from migraines.2,3 Research suggests that up to 80 percent of headaches result from dental force related problems.
A staggering number of people don't know why they're in pain, or have been un- able to find long-term relief. Many are unaware that dental force related issues — either specifically related to their mouth or as a result of traumas such as whiplash — can be the root cause of their pain. They usually don't tell their dentist or physician about their chronic pain, and they're unaware that treatment exists. I was fortunate to recognize the need for caring for these patients in a manner that provides long-term relief. After learning about the TruDenta system (www.drsdoctor.com, Ft. Lauderdale, Fla.), I incorporated this complete assessment and therapeutic technology into my practice (Fig. 2). The TruDenta system reflects an understanding and application of current research attributing dental force imbalances to muscle dysfunction in the head and neck area. Digital assessment technologies combine with treatment modalities proven in sports medicine and physical therapy, as well as specialized education. Using TruDenta, dentists can restore patients to proper dental force balance, eliminate recurring pain, and provide desperately needed care.
After integrating TruDenta into my practice and marketing this treatment, I found many patients with similar stories, all suffering from ongoing pain, beginning to believe they were beyond help, and having exhausted nearly every available resource to find a solution. They sought treatment for chronic pain, not necessarily a dentist or dental treatment. Once my team and I began treatment, we found that within a 10- to 12-week period, our patients experienced life-changing relief, and the system proved successful.
We've experienced professional growth, and I've expanded my practice in previously unimaginable ways, all by assessing and treating dental force related conditions and their symptoms, including headache/migraine pain. We've gained personal satisfaction by making a difference in people's lives, and my practice has witnessed increased financial growth. I truly believe dental headache care, and a headache clinic within a practice, is a model for success that my dental colleagues may want to consider. Treating patients with TruDenta is straightforward. Through the training and education process, which includes on-site hands-on instruction and four to six weeks of distance courses, my auxiliary team and I found ourselves fully prepared to offer TruDenta treatment to our patients.
A year ago, I decided to open a separate headache care clinic within my practice. A goal was building awareness, so we used the marketing resources provided by TruDenta to initiate a marketing campaign. We targeted individuals seeking a solution for their pain who remained in the dark about this option. Building upon this awareness, we applied sound marketing strategies, such as proactive and free public relations, which resulted in news coverage on Fox News and articles in local newspapers and magazines. Currently, we're examining social media as another vital publicity outlet.
The results have been well worth the effort. The clinic is flourishing, and within recent weeks, we've had just shy of 100 patients wait for TruDenta treatment scheduling. We don't want to turn anyone away and are focusing efforts on hiring additional staff to accommodate the influx of patients in need of care. We also want to help potential patients burdened with financial constraints by examining every insurance and assistance program available to make treatment possible.
It is an extraordinarily satisfying experience to provide someone with a solution that takes away their pain. From an economic standpoint, providing TruDenta care taps into a new market of clients directly benefiting from your services, which helps ensure increased revenue during economically unstable times. I humbly believe dental headache care, a clinic within a practice and the TruDenta system represent an amazing opportunity for dentists to help individuals reclaim power over their health and lives. In their eyes, this makes you a hero.
About the Author
Robert L. Harrell, DDS, is a general dentist with a practice in Charlotte, N.C. His practice focuses on treating advanced restorative cases, TMJ/TMD and cosmetic dentistry.
References
National Institute of Dental and Craniofacial Research.
National Headache Foundation. Accessed July 3, 2012.
https://headaches.org/2012/10/25/migraine/
Headache. US News and World Report. 2006. Accessed July 3.
https://health.usnews.com/conditions/pain-management/headache