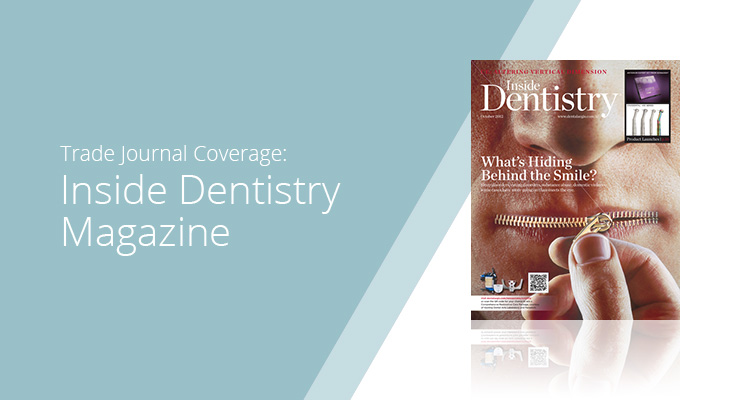 Inside Dentistry Magazine
By Ronald G. Ritsco, DMD, MS, PA, FACE
System offers objective diagnosis plus systematic and predictable symptom treatment
Every day, dentists en­counter patients who chew, grind, tear, and work their head and neck muscles as strenuously as athletes. The significant forces generated by clenching, grinding, and bruxing put the mouth and masticatory system under constant stress. Research has demonstrated that such stress and improper dental forces associated with the muscles, nerves, tendons, and ligaments within the dentomandibular region contribute to a number of symptoms, including chronic headaches and migraines. Other symptoms include, but are not limited to, temporomandibular joint disorder (TMD), excessive tooth wear and/or breakage, tinnitus, clicking and popping of the jaw (ie, temporomandibular joint [TMJ] sounds or vibrations), and discomfort or pain in the head, neck, face, or jaw.1,2
These symptoms collectively can be attributed to conditions described as dentomandibular sensorimotor dysfunction, which results from imbalanced or improper forces.3 Sufferers are predominantly female, and symptoms can also often be caused by macrotrauma, including automobile accidents, or microtrauma, such as from wisdom tooth removal or orthodontia.
Until recently, dentists have been unable to objectively diagnose these forces or systematically treat and monitor their patients who experience symptoms of muscle and force dysfunction.
Interestingly, however, sports medicine technologies, such as low-level laser therapy, therapeutic ultrasound, and microcurrent nerve stimulation, have been used successfully for years to enhance, hasten, and improve athletes' recovery from musculoskeletal and force-related injuries.4 In combination with neuroscience and systematic and objective diagnosis/monitoring, such innovative approaches to treatment can now be applied in dentistry.5-9 Regardless of the occlusal philosophy followed, if restorations are ultimately deemed necessary, and a scientifically based and systematic protocol is followed, it can enable clinicians to comprehensively address the painful symptoms associated with dysfunctional dentomandibular sensorimotor conditions.
An Innovative Diagnostic and Treatment Technology
The TruDenta® treatment system (Dental Resource Systems, Inc., DRSdoctor.com) is a state-of-the-art, turnkey system for the diagnosis, treatment, and management of functional, dynamic force imbalances within the mouth (Figure 1). It incorporates patented, proprietary diagnostic and treatment hardware and software, which are supplemented by extensive clinical training and ongoing practice implementation assistance.
TruDenta examination and diagnosis devices objectively measure and visually illustrate the cause of patient symptoms as they relate to dentomandibular sensorimotor dysfunctions. Such visualization enhances patient acceptance of treatment and contributes to greater diagnostic objectivity and treatment monitoring. In particular, the system uses TruDentaScan digital force measurement (T-Scan) technology for evaluating the amount and balance of forces during closure, at closure, and while chewing (Figure 2). Another diagnostic component of the system is thecomputerized TruDentaROM, a range of motion (ROM) assessment tool that measures the cervical ROM as expressed in the patient's head movements (Figure 3). A cervical ROM disability can be correlated with a mandibular ROM disability and/or an imbalance in the dental foundation.
The multiple TruDenta treatment devices and modalities, which represent a proven combination of sports medicine rehabilitation and advanced dentistry technologies, are cleared by the FDA. The TruDenta therapy combination is proprietary, unique, and proven to achieve consistent results of lasting relief and dental foundation rehabilitation for patients.
The rehabilitation technology in the TruDenta system includes therapeutic ultrasound, transcutaneous electrical stimulation (ie, sub-threshold micro-current), low-level laser therapy, and intraoral orthotics. Combined, the TruDenta system incorporates a protocol of frequency, time, and modulation of these devices along with other treatment modalities.
Typical TruDenta Diagnostic and Treatment Protocol
As with any diagnostic and clinical treatment protocol, the first step in patient care is the examination, during which the condition(s) that may be amenable to treatment can be diagnosed. The TruDenta system includes a well-described and well-documented screening and examination process for identifying those patients who will be responsive to TruDenta treatment and those who will not.
The examination process includes a head health, medical, and headache history, as well as a pharmacological assessment. The physical examination is supplemented by objective findings, which include mandibular ROM disability, cervical ROM disability (digitally), and a digital force analysis (TruDenta Scan). These findings are combined with a standard-of-care panoramic radiographic examination. Thorough dental, periodontal, airway, orthodontic, and occlusal examinations are also r commended and encouraged. It is important to note that the ROM portion of the diagnostic process provides objective data in keeping with American Medical Association guidelines, which is helpful in attracting new patient referrals from the physician community.
The TruDenta examination of forces placed on the masticatory system plays a large role in determining the extent of the sensorimotor dysfunction. Abnormal, excessive, or imbalanced forces are reliable indicators of dysfunction and injury.
Case Presentation
A 51-year-old woman presented with the chief complaint of an uneven bite and pain in the right mandible and the side of her head, as well as pain and pulsation distal to her right ear. After following the TruDenta diagnostic protocol, it was determined that the patient's dentomandibular sensorimotor dysfunction was caused by dental malocclusion related to loss of posterior teeth on her right side. It also was determined that she would benefit from TruDenta treatment in combination with a partial reconstruction of her lower left and right sides, using conventional and implant-supported crowns. The loss of posterior support resulted in an internal derangement of the right TMJ, compensated for years by excessive muscle contraction.
Therefore, a treatment plan specific to this patient's condition and extent of disability was initiated.
The TruDenta system enables dentists to categorize patients based on a combination of subjective (intraoral observation) and objective (digital examination) diagnostic data. Based on a patient's specific classification, an ideal treatment protocol can be established.
While the dentist completes the diagnosis and minor occlusal adjustments, trained staff members complete the majority of the treatment. The TruDenta system includes continuing education training credit for the doctor and all staff members in conjunction with either the University of Nevada Las Vegas or Nova Southeastern University dental schools.
In this case, during each of multiple office visits, the patient's treatment involved a specific sequence and duration of the following integrated therapies:
therapeutic ultrasound
manual muscle therapy
transcutaneous electrical stimulation
low-level laser therapy
intraoral orthotics
It is important to note that long-lasting results of TruDenta therapy are predicated on harmonizing the rehabilitated musculoskeletal components with force-balanced dentition. Creating a force-balanced dentition is only acomplished after TruDenta rehabilitation is underway. This process involves stabilizing the proprioceptive neurology through proper dental treatment in order to provide a platform of normal function for the patient.
In this case, as the patient approached her rehabilitation, balancing the foundation (ie, balancing the bite) using the most conservative dental procedures possible for stabilizing the stomatognathic system was discussed. The patient was advised that balancing the foundation with additive and/or subtractive procedures would not be an exclusive therapeutic remedy. Rather, the dentist explained that balancing the forces applied to the teeth would best be acomplished in conjunction with the symmetry and normalization of the joints and muscles achieved through TruDenta treatment. Once all elements of the teeth, muscles, joints, neurology, pain, and force balance were addressed, the patient would have the optimum chance for an excellent outcome.
It was determined that three mandibular right posterior implant-supported restorations, and eight left conventional restorations would be placed to regain posterior support and balance the bite force. This, along with the complete Level 3 TruDenta Therapy program, resolved the patient's muscle pain and discomfort.
Conclusion
Never before have dentists been able to simply and effectively assess the functional elements of the head, neck, and oral cavity in a way that connects and corrects the actions of the musculoskeletal and dentomandibular health. Although many problems with a patient's dental foundation have a "chicken-or-egg" etiology, all therapy for dental foundation or bite imbalance should be approached comprehensively, addressing all foundational elements, to achieve success. Using the TruDenta system, dentists can provide exceptional care by delivering an objective, visually engaging diagnosis and offering scientifically proven, systematic, and predictable treatments for patients suffering from the symptoms of dentomandibular sensorimotor dysfunction.
About the Author
Ronald G. Ritsco, DMD, MS, PA, FACE
Ritsco Prosthodontics/Advanced Dentistry
Houston, Texas
Disclosure
The author is a consultant for Dental Resource Systems, Inc.
References
Junge D. Oral sensorimotor function. Pacific, Missouri: Medico Dental Media International Inc., 1998.
Okeson JP. Management of Temporo­mandibular Disorders and Occlusion. 6th ed. St. Louis, MO: The Mosby Co.; 2008.
Sessle BJ. Mechanisms of oral somatosensory and motor functions and their clinical correlates. J Oral Rehabil. 2006;33(4):243-261.
Cameron MH. Physical Agents in Reha­bilitation: From Research to Practice. 3rd ed. St. Louis, MO: Saunders/Elsevier; 2009.
Öz S, Gökçen-Röhlig B, Saruhanoglu A, Tuncer EB. Management of myofascial pain: low-level laser therapy versus occlusal splints. J Craniofac Surg. 2010;21(6):1722-1728.
Marini I, Gatto MR, Bonetti GA. Effects of superpulsed low-level laser therapy on temporomandibular joint pain. Clin J Pain. 2010;26(7):611-616.
Srbely JZ, Dickey JP. Randomized controlled study of the antinociceptive effect of ultrasound on trigger point sensitivity: novel applications in myofascial therapy? Clin Rehabil. 2007;21(5):411-417.
Aguilera FJ, Martin DP, Masanet RA, et al. Immediate effect of ultrasound and ischemic compression techniques for the treatment of trapezius latent myofascial trigger points in healthy subjects: a randomized controlled study. J Manipulative Physiolo Ther. 2009;32(7):515-520.
Zuim PRJ, Garcia AR, Turcio KHL, Hamata MM. Evaluation of microcurrent electrical nerve stimulation (MENS) effectiveness on muscle pain in temporomandibular disorders patients. J Appl Oral Sci. 2006;14(1):61-66.