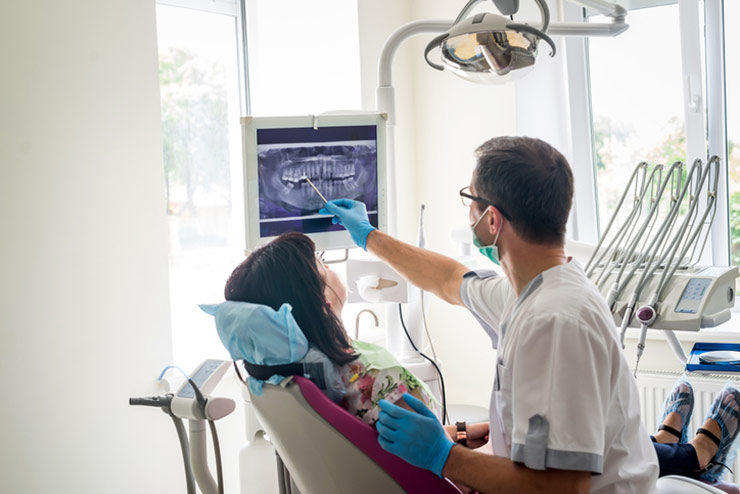 Medically Necessary Dentistry
If you ask most dentists why they went into dentistry, the majority will say the same thing: to help people. And that's exactly what medically necessary dentistry does.
Many dentists might not know much (if anything) about medically necessary dentistry, including that it can be a completely life-changing treatment option for patients with chronic pain. We'll review what medically necessary dentistry is, in what way it changes lives, and how it can help you take your dental practice to the next level.
What Is Medically Necessary Dentistry?
To truly understand medically necessary dental services and how they're used to treat patients, it's important to understand the underlying issue they're designed to address. Dentomandibular sensorimotor dysfunction (DMSD) refers to force-related and pain-related conditions and symptoms that originate in the orofacial area, head, and neck. DMSD occurs when abnormal forces in this area cause an unbalanced dental foundation.
Research has proven that improper and unbalanced forces in the mouth can lead to painful conditions that often prove very difficult to treat. These conditions include (but are not limited to):
Headache
Migraine
Tinnitus
TMJ disorder
Myofascial pain
Bruxism
Clenching
Sleep disorders
Tooth damage
Joint disability
Poor airway control
Pulpitis
Vertigo
More often than not, patients suffering from these conditions don't make the connection between these issues and DMSD, typically exploring countless failed treatment options before realizing the true cause of the pain they're experiencing. However, those that do explore medically necessary dental services are often blown away by the life-changing—sometimes even life-saving—results of this style of treatment.
Helping Your Practice Stand out in the Crowd
Medically necessary dentistry can not only change lives, but also help dentists differentiate themselves locally. Many other areas of the field, such as cosmetic dentistry and dental implants, are very congested and therefore highly competitive. That's why dentists often find themselves on the eternal quest for new patients. If you're looking to expand your offerings to your current patients while finding ways to reach new ones, medically necessary dentistry might be the perfect new area to explore.
As you're searching for ways to future-proof your dental practice and identify new opportunities, consider the idea of becoming a master of non-doctor production. In other words, you can increase your productivity in your office tenfold by focusing on treatments that don't require your own hands. So many dentists spend most of their time trading hours for dollars—which is really not an efficient business model, if you think about it.
With therapeutic treatment approaches, approximately 90 percent of the work is done by support staff. This type of movement is really the most exciting opportunity that exists in dentistry today: Offering dentists a chance to transform their practices, attract more patients, increase their revenue, and dramatically improve productivity.
Exploring Innovative Treatment Options
You're probably wondering what this magical treatment method is, not to mention how you can implement it in your own practice. Medically necessary dentistry addresses DMSD symptoms and typically resolves related symptoms that patients have.
TruDenta is a comprehensive system that uses a unique blend of force-based dentistry and therapeutic rehabilitation to treat the improper forces and imbalances that trigger painful conditions such as chronic headaches, migraine, and tinnitus. It works by progressively adjusting the way the teeth bite together. Treatments are noninvasive, drug-free, and part of a larger rehabilitation process that involves force and range of motion analysis, ultrasound, microcurrent, and cold laser therapies.