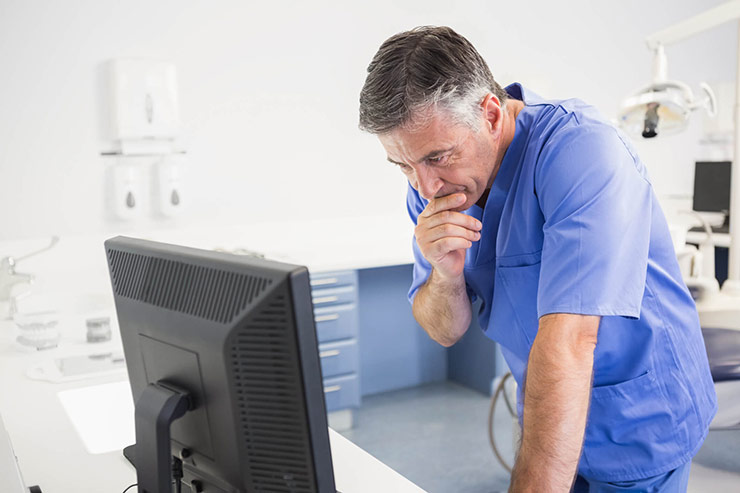 Investing in technology
Like it has with many other industries, technology has completely transformed dentistry. Technological innovations have expanded treatment options and changed dental care for the better. Many dentists are embracing modern dental technology to keep up in today's competitive environment.
Investing in the latest dental technology can help increase efficiency and differentiate your practice from competitors in your area. Although technology can be an expensive investment up front, when implemented properly, it can result in a great return on investment (ROI) for your dental practice.
How Technology Benefits Dental Practices
By staying current with new technologies, you can automate manual processes and save your staff valuable time. Technology enables dental practices to operate more efficiently and improve your level of productivity. You can also create a competitive advantage that will help you stand out in your community and ultimately attract new patients.
It's not only about increasing efficiency and keeping up in a competitive environment. In today's digital world, patients expect their providers — their dental specialists included — to keep up with the latest technology in the field. From making procedures less invasive to offering flexible and convenient scheduling options, there are many ways that technology helps to improve the patient experience — and increase retention in the process.
Technologies That Can Provide a Solid Return
Here are a few different technologies that can provide a great ROI for your dental practice.
Online scheduling software
Chances are, you've either heard of online scheduling software or your dental practice is already using it. However, if you're not taking advantage of a digital solution that allows patients to schedule appointments online, it's well worth investing in. This is a convenient scheduling option not only for patients but also for the office staff you employ. Online scheduling is easier for staff to keep track of and typically results in fewer phone calls and emails for them to answer.
3D printing for dental needs
The dental industry is taking advantage of the improvements in 3D printing technology. 3D printing for dental globally is expected to be worth $9.78 billion by 2025. Dentists are using 3D printing to print within the office a variety of custom applications, including dental implants, crowns, aligners, and other devices. Purchasing a 3D printer is a significant investment for a practice but may be a more economical one-time cost than the ongoing costs and time of outsourcing.
Email marketing system for reminders
An email marketing system is a great way to send automated reminders to your patients about their upcoming appointments. This helps to decrease the number of no-shows at your office and offers a convenient reminder for your patients that they will no doubt appreciate. You can also utilize the same system to send a monthly newsletter or promote any special deals you're offering.
Intra-oral cameras
Intra-oral cameras allow dentists to look inside a patient's mouth using a dental mirror with a camera attached to it. The provider can see images on a screen outside of the patient's mouth. With this technology, patients aren't required to sit in the chair with their mouths wide open for extended periods of time, and dentists gain a better view of hard-to-access areas without causing discomfort.
Bite force and range of motion equipment
The TruDenta assessment process involves bite force and range of motion analysis using the latest digital force measurement technology. This evaluates the amount of bite force that's present both during closure and while chewing. Range of motion hardware and software digitally measures limited or restricted range of motion to identify impairments. With this technology, you can treat the underlying dental force imbalances that cause chronic headaches, migraines, TMJ disorder, craniofacial pain, tinnitus, and more conditions that require medically necessary dentistry.
Learn the True Impact of Dental Forces
Curious about our unique bite and force diagnosis system and the impact of the powerful dental force imbalances it helps identify? Watch our free webinar, "The Impact of Dental Forces on Your Practice, Patients and Production," to learn more about force-related dental disease.