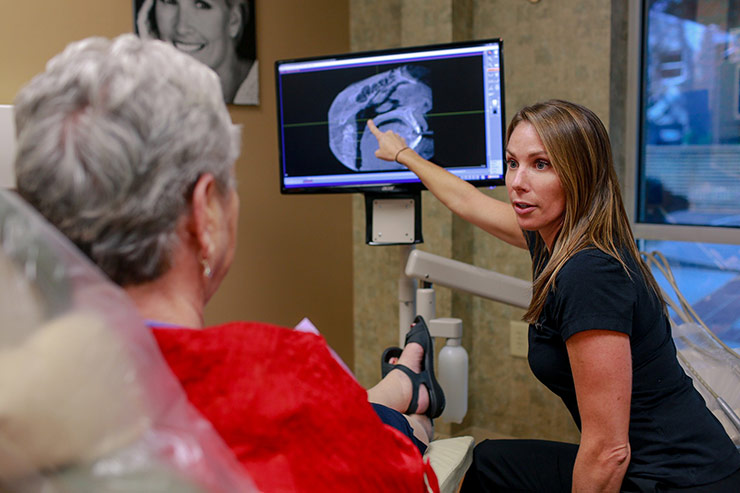 CBCT
Cone beam computed tomography (CBCT) is becoming more and more common in dental practices across the country. Highly detailed CBCT images are invaluable in the assessment of dental and skeletal structures, allowing dentists to localize and evaluate impacted teeth and TMJ. CBCT also plays a significant role in the planning of temporary anchorage devices, the fabrication of custom dentistry appliances, airway analysis, and digital model creation. This all leads to improved diagnosis, quicker examinations, improved patient communication and case acceptance. All of which comes with a lower dose of radiation than a standard Panorex, AND the scans can be reimbursed through medical insurance.
Diagnosis and Treatment
TMJ Assessment: CBCT systems with multiple fields of view allow doctors to assess changes in the temporomandibular joint and surrounding structures. Not only are CBCT scans more accurate and regular 2D scans, but one single scan can capture both the left and right TMJ, speeding up the assessment process.
Airway Analysis: Airway management in the dental industry is gaining in popularity every year. This has lead many vendors to offer dedicated 3D imaging software that allows doctors to see constrictions by segmenting the airway in just a few clicks. Improved visibility leads to improved care.
Temporary Anchorage Devices (TADs): Cone Beam CT provides doctors a detailed summary of bone quality and amount, full view of the sinuses and root proximity. This allows for more detailed planning and optimal placement of TADs or implants, greatly reducing the guesswork and possible negative outcomes.
Custom Appliances­­: Studies have shown that 3D imaging greatly increases accuracy in the fabrication of custom appliances. CBCT when combined with other technology and the proper software creates an extremely accurate digital set-up that labs can use to make custom appliances with great fit with quicker turnarounds.
Digital Model Creation: Many CBCT systems on the market can be used to scan traditional impressions and stone models to create a digital copy. This aids in storage and permits doctors to quickly send files to a lab for appliance fabrication. Digital models also aid in case presentation and acceptance by clearly and accurately demonstrating the situation to the patient.
Dose
CBCT can deliver less radiation than traditional panoramic imaging. Selecting a field of view allows doctors to control dose exposure for younger patients or individuals that are more likely to be affected by radiation.
Medical Insurance Coverage
Reimbursement medically necessary exams and imaging is common in many dental practices. CBCT reimbursement through medical insurance often requires preauthorization. Some insurance companies require offices be accredited before they will accept a claim. Don't be turned off by this! Submitting cases can be done in as little as five minutes.
Case Presentation and Acceptance
3D imaging in your office tells your patients your office is staying current with existing technologies. 3D imaging can help build the patient's story of pain, improving case acceptance.
As the technology and imaging software continues to advance, there will be more and benefits to having a CBCT in your office.
With all options available today, there's never been a better time to add CBCT to your practice. But how do you choose the right CBCT for your practice? That's where TruDenta and DreamSleep can help.
We'll do a deep dive on your practice to determine where and when you can apply CBCT technology to get the most return on your investment. Best of all, we have fair & flexible financing options.
Schedule a call to take your practice to the next level or call us today at 844-363-7533.